This is where you find my hand-made jewelry.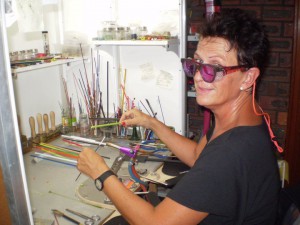 Creating jewelry is my great passion in life, Bead embroidery in particular but also other techniques ie; Viking knitting, wire work, beadweaving knitting and crocheting with beads and some leather work. I like challenges and participate in competitions both in Sweden as well as abroad.
I lived in Australia for some years and it was there I started, knitted bracelets with tiny seed beads and wire, then usual threaded jewelry. I took some lessons from Australian designers in various fields of technology but also spent countless hours by teaching myself.
To purchase
Please, specify item number, your name, full address, e-mail and any measurement requirements. I will confirm your order by e-mail, I´ll also let you know the shipping cost for your country and include payment information. All orders need to be paid using PayPal. After I have received your payment I will send you the items you have ordered. Please note, some jewelry displayed on this blog might have been sold or is not available. If this is the case I am happy to discuss orders for similar designs with you by e-mail.
This blog is a platform where I can share my creations with you.
Enjoy!